Quirónsalud is Spain's leading provider of health services. We are a young brand that came to be when the country's most prestigious centers joined together. Though new, we have over 60 years of experience in caring for people's health and well-being.
In addition to offering you comprehensive services in assisted reproduction and maternal-fetal medicine, we cover all medical and surgical specialties. Our group features more than 90 centers throughout Spain, a highly renowned staff, the most advanced technology, an inestimable vocation for research and teaching, and a management modelthat is based on an unbending commitment to quality.
The professionalism and proven quality behind our approach are combined with a vision of medicine that is rooted in personalized care, warmth, and connection with patients. We call this health person by person.
Efficacy
We know your goal is to give birth to a healthy child, which is why we go to great lengths to make yours a problem-free process. We are especially committed to you and will help you bring as many healthy children into your home as you wish while looking out for the safety of you and yours.
Techniques such as IVF have a cumulative success rate of over 80% after three attempts, while with egg donation this rate is about 90%.
The effectiveness of these treatments varies according to the technique chosen and the patient's reproductive prognosis.
Experience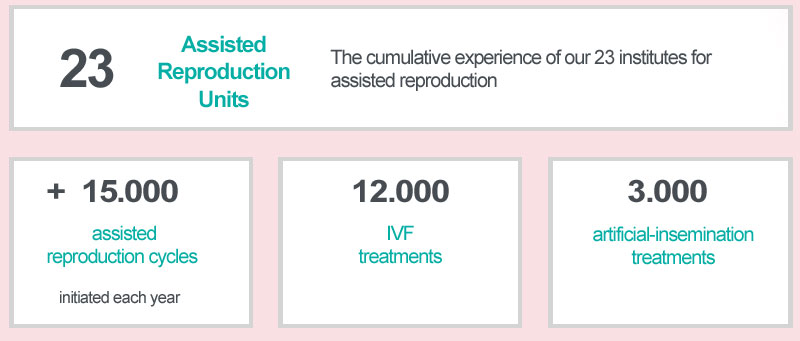 Resultados Clínicos
You and your partner have likely wanted to be parents for some time now. Now that you have seen that the process is more difficult than you expected, and now that you have grown somewhat tired and disappointed, it seems the time has come for you to seek professional guidance.
Our job is to accompany you on this journey you have begun and help you make your dream come true. We will give you specialized medical counseling and emotional support at each stage, and when pregnancy finally becomes a reality we will be with you each step of the way to ensure that both mother and baby are healthy.
PQ1
Because we understand you
We at Quirónsalud know how frustrating it can be to want a baby but be unable to make it happen naturally. We understand that this affects your life in a way that few other problems can. We know how intensely you want to be a mother, and that this is your number-one goal and a source of great excitement. It isn't always easy to take the leap and receive fertility treatment. We know what this is like, which is why we will be by your side so that when you make the decision, you can do so with safety and confidence, knowing at all times that you are understood and supported.

PQ2
Because we get involved
Together, we are going to embark on a journey that will be the most important of your whole life. We'll call on all of our know-how, experience, and eagerness to make it happen for you. To do this, we will make use of the most innovative techniques available in reproductive medicine, state-of-the-art technology, and the most effective treatments.

PQ3
Because we know the way to do it
Though the end goal is always the same, the collective experience we have gained in our 23 institutes for assisted reproduction has taught us over the years that each case is unique and needs to be approached differently. For this aim, we have multidisciplinary teams of experts made up of gynecologists, biologists, geneticists, psychologists, urologists, and andrologists, who will personally take on your case, offering you the solution you need. The added value of these teams comes from the way they collaborate and from the quality medical care provided in each individual health center. Quirónsalud assisted reproduction units showcase magnificent professional care. This top-notch hospital setting has contributed to a level of safety that more and more patients consider to be a fundamental part of the experience.

PQ4
Because we want to be the first to tell you, "Congratulations, you're pregnant."
Quirónsalud assisted reproduction units feature magnificent professional care. This top-quality hospital environment provides a safety guarantee that more and more patients consider to be a fundamental part of the experience.
© 2023 Quirónsalud - All rights reserved